I got my pitch in on time, and I am in the GUTGAA Pitch Contest!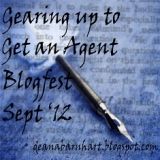 Woot!
Next week, my query will appear on either
Deana Barnhart's
blog or one of four others(
Robin Weeks
,
Falling for Fiction
,
Emily R. King
, or
Jaye Robin Brown
), along with 39 other queries (presumably of similar genres.) Anonymous judges will pick their favorites, using the comments (I believe) to cast votes. The top ten from each blog--so 50 pitches total--will be advanced to the Agent Round. The pitches appear on Monday, and finalists are announced on Friday.
If I make it that far, my query will appear again, this time definitely on
Deana Barnhart
, and a group of agents will judge the queries. There's no narrowing down, selecting of "winners," or actual judging. The big prize is the possibility that an agent reading my query, if it makes it to finalist, could request to read the manuscript and potentially decide to represent me. Wouldn't that be AWESOME??!!!!!
Stay tuned next Monday, when I will direct you to the blog that has my pitch. I probably ought not to identify mine, as this is supposed to be anonymous, but there can't be harm in pointing you to the right blog, can there? I don't know whether the judges will be at all swayed by general comments--they're supposed to pick their own favorites, after all.
My persistence paid off! I missed the first window but thankfully there were two, and I spent some time trying to figure out exactly when it would open--basically whether my clock matched the destination one. I'm glad to get a bit of good news, as the preschool saga (mentioned in my previous post) took a turn for the worse today, and stress is high. But maybe I can make a sale soon. Wouldn't that be nice?
How about you? If you entered, did you make it? Good luck to everyone!