I have felt a resurgence in crafting and kid projects in the last few weeks. Not only have I done a few projects to get Zaxxon ready for preschool, and just some fun stuff to do in general, but I've found myself making plans for Kal'El once Zaxxon is out of the house for a few hours every morning. I've already done some prep work for the first few crafts I'll do with Kal'El alone, and I'm looking forward to it. Zaxxon was right around Kal'El's age when I started crafting with him, and Kal'El always wants to join in when Zaxxon initiates a project, so he's definitely ready. I'm excited!
But first, we have to follow along with Zaxxon for a bit longer.
Zaxxon is off to pre-K this year, which will be five mornings a week. He only barely misses the cutoff to start kindergarten (by three weeks) but I think the extra year of preschool will work wonders for his social skills.
Just like last summer, I helped prepare Zaxxon for the start of preschool by making a visual calendar.
We drew a school bus, which Zaxxon decorated and cut out.
Then we made a paper chain, with one link for every day remaining before the start of preschool. This time around, Zaxxon didn't need any help with the scissors.
He
did
ask for help with the stapler, and I think he was losing interest by that point.
But we
had
to finish the chain, because only once it was done could we tear off a link for the first day!
He is now tearing off a link every morning, so he can watch the chain get shorter and know when preschool is coming!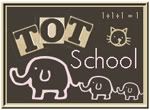 Soon to be tot school with my little tot!