We continued with Christmas crafts this week, though they were mainly on the fly with little or no planning on my part. I wanted to plan out crafts, but I just kept getting busy/distracted with other things.
Sela
. Handprint reindeer.
Sela
also gave me this idea: a marshmallow snowman.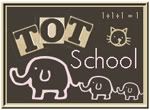 Linking up at Tot School. Who knows how crafty/willing to plan I'll be next week. Stay tuned!