painted a pumpkin
to look like the superhero (villain?) Rorschach, and Zaxxon was fascinated by this, so I showed him how to make his own inkblot pictures. He used eyedroppers to drop watered-down paint onto a paper...
Diapers to Diplomas
. At any rate, he painted a cut-up egg carton purple, and we made it into a bunch of grapes.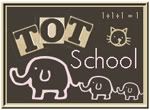 I've finally caught up on our backlog of crafts, therefore if we don't do any crafts this week, I won't have anything to report next weekend. (Perhaps that will encourage me--although Christmas activities are already encouraging me.) I'm linking up at tot school again.