might
let him fill his cereal bowl from the garlands after Christmas is over. Maybe. It depends on how icky I think the cereal looks by then. As long as it doesn't get wet, gnawed on, or dusty, it'll probably be okay.
Snowy sensory bin!!!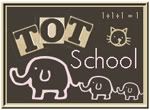 I'm sure Tot School has tons of holiday themed crafts this week!