I took advantage of the doting attention of my parents two weekends before Thanksgiving and prepared a bevy of Thanksgiving crafts to do with Zaxxon. I wanted him to learn the basic story behind the holiday as well as having fun and doing turkey stuff.
here
. He likes smacking crafts with the palm of his hand to make sure the glue sticks.
Zaxxon had already thrown two five-minute-long fits just before we did this craft, first when he realized he'd left his pumpkin sticker at the credit union and the second when he noticed his snowman stamp was rubbing off his hand--not to mention I knew he had a cough and a runny nose, and had gone to bed late the previous night, so I figured we'd be lucky to get through one project on this day. However, to my surprise he wanted more, so we moved on to a Thankful Turkey.
we
taped them to the turkey (meaning he got bored and wanted me to attach most of them).
This year, the librarian did the same activity. Zaxxon was capable of listening for his feather color this year, and he really enjoyed it again. So I brought it home with us. It involves a song (sung to the tune of Frere Jacques)
Turkey feathers, turkey feathers
Brightly colored, brightly colored
Who has a (fill in the color) one? Who has a ___ one?
Bring it now, bring it now
The children (who had been handed a different colored felt feather before it began) were supposed to wait until their color was called and then put the feather on the turkey.
here
. He wasn't particularly interested in coloring much, but he liked making a book, and the finished product.
With all this preparation, along with some library books and a few other songs, I think Zaxxon was well prepared for Thanksgiving. This was a lot of fun, and I'm looking forward to Christmas.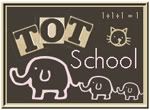 I'm linking up with Tot School again. Check them out for great ideas for little kids (I'm sure there will be lots of holiday ideas this week.)